Saturday, 23 September: The National Investigation Agency (NIA) seized the property of Gurpatwant Singh Pannun, the chief of the banned outfit Sikhs for Justice, at his ancestral village of Khankot in Amritsar and Chandigarh, as part of its crackdown on pro-Khalistani terrorists.
Media reports said, that the sequestered properties include 46 Kanal of agricultural property in the ancestral village Khankot, located on the outskirts of Amritsar district.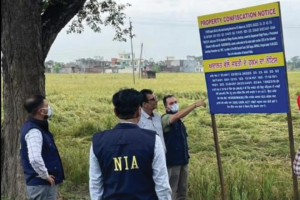 The authorities have verified that a property confiscation notice has been firmly posted outside Pannu's house in Chandigarh's Sector 15, under the Unlawful Activities Prevention Act.
In accordance with India's law enforcement agency, Pannun's house number 2033 in Sector 15-C, Chandigarh was confiscated, and he lost all rights to the property. As a result, the ownership of the property was transferred to the government. Additionally, in 2020, his properties were attached, which prohibited him from selling the property.
"1/4th share of house no 2033, Sector 15-C, Chandigarh, owned by Gurpatwant Singh Pannun, a proclaimed offender in an NIA case, stands confiscated to the state under Section 33 (5) of the Unlawful Activities Prevention Act by the orders of the NIA special court, Mohali, Punjab. This is for information of the general public," read the notices outside Pannun's house and at his Amritsar village.
The NIA confiscated 26 kanals of agricultural land belonging to Pannun at Khankot in Amritsar in connection with a terror case registered in 2020.
Flash:

Latest visuals of #NIA confiscated properties of #GurpatwantSinghPannu, chief of banned Sikh For Justice (SFJ) in #Punjab. pic.twitter.com/x2FP24X2NX

— Yuvraj Singh Mann (@yuvnique) September 23, 2023
It is a well-known fact that Gurpatwant Singh Pannun, the leader of Sikh for Justice (SFJ), is operating from Canada despite facing approximately 22 criminal cases in Punjab, three of which are for sedition.
Gurpatwant Singh Pannun is a designated terrorist in India. Earlier, after Canadian Prime Minister Justin Trudeau drew connections between the Indian government and the killing of Hardeep Singh Nijjar, Pannun hovered the Hindus living in Canada to leave the country and announced a fresh plebiscite and vote asking if the Indian high commissioner was responsible for the assassination of the Khalistani terrorist.
A politic row was sparked between India and Canada after Trudeau defamed 'agents of the Indian government' of orchestrating the attack. "Indo-Canadian Hindus, you have renounce your obedience to Canada and the Canadian constitution. Your destination is India. Leave Canada and go to India. Pro-Khalistan Sikhs have always been pious to Canada. They have always sided with Canada and maintain the laws and constitution," Pannun said in the 45-second videotape.
Mr. PM @JustinTrudeau R U allegedly supporting this language towards #Hindus & Kill #India in the name of Freedom of speech & expression in #Canada. Please clear ur stand.@DLeBlancNB @SurreyRCMP @Dave_Eby @mikefarnworthbc @HCI_Ottawa @MEAIndia #HindusUnderAttack #Hatespeech pic.twitter.com/sXqBOqVTd8

— Sameer Kaushal 🇨🇦❤🇮🇳 (@itssamonline) September 18, 2023
"On October 29, the shaheed (martyr) Nijjar referendum is occurring in Vancouver. I urge all Canadian Sikhs to be in Vancouver on October 29 to vote on: Is the Indian High Commissioner Responsible for the assassination of Hardeep Singh Nijjar," he stated.
Also Read: Tensions Between Canada and India: Both Countries Expelling a Diplomat from the Other Side