At the official G20 gala dinner, which was hosted by President Droupadi Murmu at Bharat Mandapam in Delhi as the first day of the summit draws to a close, the world leaders and delegates were treated to special Indian cuisine.
The meals served on silver and gold-plated cutlery, showing hints of India's rich culture and traditions, were served to the Heads of State and other international leaders as part of a special dining experience.
The menu begins with an introduction to how India, with all its diversity, is connected by 'taste'. "A medley of traditions, customs and climate, Bharat is diverse in many ways, Taste connects us," the menu read.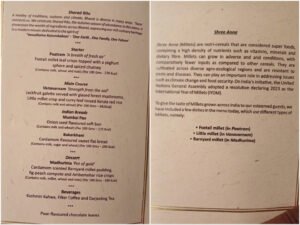 There is also a special mention of millets in the menu, describing their nutritional and agricultural value.
Here's what was served for the G20 dinner:
Starters
Paatram: Foxtail millet leaf crisps topped with a yoghurt sphere and spiced chutney
Main Course
Vanavarnam: Jackfruit galette served with glazed forest mushrooms, Little millet crisp and curry leaf-tossed Kerala red rice
Indian Breads
Mumbai Pao: Onion seed-flavoured soft bun
Bakarkhani: Cardamom-flavoured sweet flatbread
Dessert
Madhurima 'Pot of gold': Cardamom scented Barnyard millet pudding, fig-peach compote and Ambemohar rice crisps
Beverages
Kashmiri Kahwa, Filter Coffee and Darjeeling Tea
Paan-flavoured chocolate leaves